Skilled Nursing in Wichita, KS
Experience High-Quality, Faith-based Skilled Care Centered Around You
Skilled nursing services in Marian Hall at Mount St. Mary are rooted in faith, focused on healing, and designed to help members of the community remain as independent as possible.
At our senior living community, we go far beyond the standard expectations of a traditional nursing home by providing person-centered therapies in skilled nursing that help older adults maintain a high-quality life. Members of the community enjoy compassionate care from nurses and other healthcare professionals, while also engaging in enriching activities and pursuing their hobbies.
To learn more about our faith-based retirement community or skilled care in Wichita, KS, fill out the contact form on this page.
Experience Exceptional Long-Term Care at Marian Hall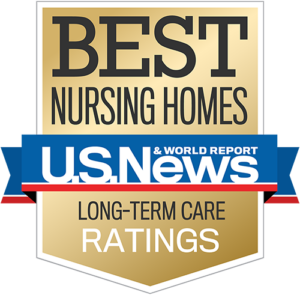 Mount St. Mary has been designated as a "Best Long-Term Care" community by U.S. News and World Report. Only a small percentage out of the 15,000 communities that offer skilled nursing services in the U.S. have achieved this prestigious recognition.
Skilled Nursing Services at Marian Hall
We offer person-centered care, programs, and therapies that aid in recovery, promote well-being and enrich the spirit.
Assistance with daily activities of living
Licensed nurses provide care 24/7
Physical, occupational, speech-language therapies
Private suites with private bathrooms
Individualized laundry services
Skilled Nursing FAQ
What is skilled nursing?
Faith-based skilled nursing at Mount St. Mary provides compassionate, round-the-clock medical care by licensed professionals that include registered nurses (RNs), licensed practical nurses (LPNs), and certified nurse aides. Skilled nursing is for people who are recovering from illness, injury, surgery or stroke, and need intensive therapy and nursing care to maintain optimal well-being.
Skilled nursing is also appropriate for people who require long-term care, like those with ongoing health conditions or chronic severe pain.
Who can benefit from skilled nursing?
Skilled nursing is the highest level of care available in a senior living community. If you or a loved one requires medical care for an injury, illness or ongoing health condition, along with assistance with daily activities of living, skilled nursing is a good choice. Common reasons to choose skilled nursing services include:

Fall-related injury
Hip or bone fracture
Orthopedic surgery
Parkison's disease
Stroke
Diabetes
Congestive heart or cardiac failure
Chronic obstructive pulmonary disease (COPD)
Can I bring personal items?
Yes! We encourage you to bring pictures, plants, and other personal items to create an atmosphere that feels just like home.
Will Medicare pay for skilled nursing?
Mount St. Mary is a Medicare-certified provider of skilled nursing. With a qualifying hospital stay, Medicare will typically cover up to 20 days in skilled nursing, and a daily coinsurance rate will be applied for up to 100 days after that. Keep in mind that Medicare has very stringent rules and limitations, and your coverage depends on several factors. Visit the Medicare website for more information.
Can I bring my own furniture?
Yes! You can bring your favorite recliner, etc. to make your suite more home like and comfortable.